Sub-sea cable
Greenpipe protects fiber cables in Puerto Rico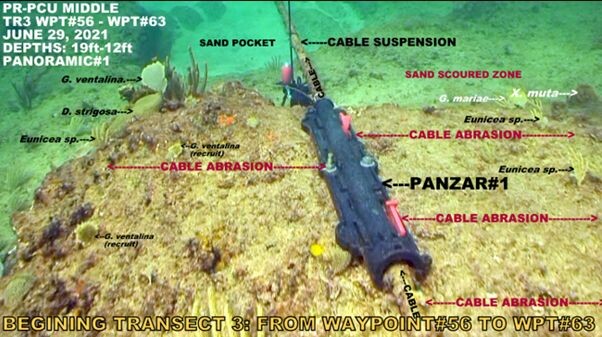 To provide Puerto Rico with fiber optics the ARCOS-1 fiber optic cable installed 2001 connects Puerto Rico with surrounding islands. Due to significant storm swells and wave impact in the shallow reef zone, approx. 1,7 km from shore, the cable was, at some points, scoured. Also, lateral movements across the seafloor were detected potentially affecting endangered corals such as the Elkhorn coral, Acropora palmata and other epibenthic species. To stabilize the cable to avoid further swinging motion of the cable, nine cable suspension fix points at 3-8 meters depths were appointed to fixate the cable to the seafloor. To fixate the cable the Greenpipe divisible cable protection pipe Snap Panzar™ was chosen to be snapped around the cable and then bolted to the seafloor.
Each unit was bolted and fixed to the seafloor with the integrated mounts on the middle section of the Snap Panzar™ pipe. First, two drill holes of approx. 15 cm on each side of the pipe was made on the seafloor and filled with U/W epoxy mixture to accommodate the galvanized screw bolts with nuts and washers.
The purposes of installing Snap Panzar™ at the fix points were to protect the cable from further abrasion impacts and to protect the surrounding coral pavement from further cable-induced disturbances. In addition to prolonging the fiber optic subsea cable's lifetime by the stabilization of unstable cable areas, typical corals for the area should recolonize the cable abraded bedrock.
Vance P. Vicente the President of Vicente & Associates says that Snap Panzar™ is an environmentally correct way to protect corals in the Caribbean and elsewhere. They may be also useful in the construction of artificial reef structures since they do not oxidize.
The installation was made by: Vicente & Associates, Guaynabo, Puerto Rico.