Less environmental impact and easier installation
Greenpipe Quick Eco Base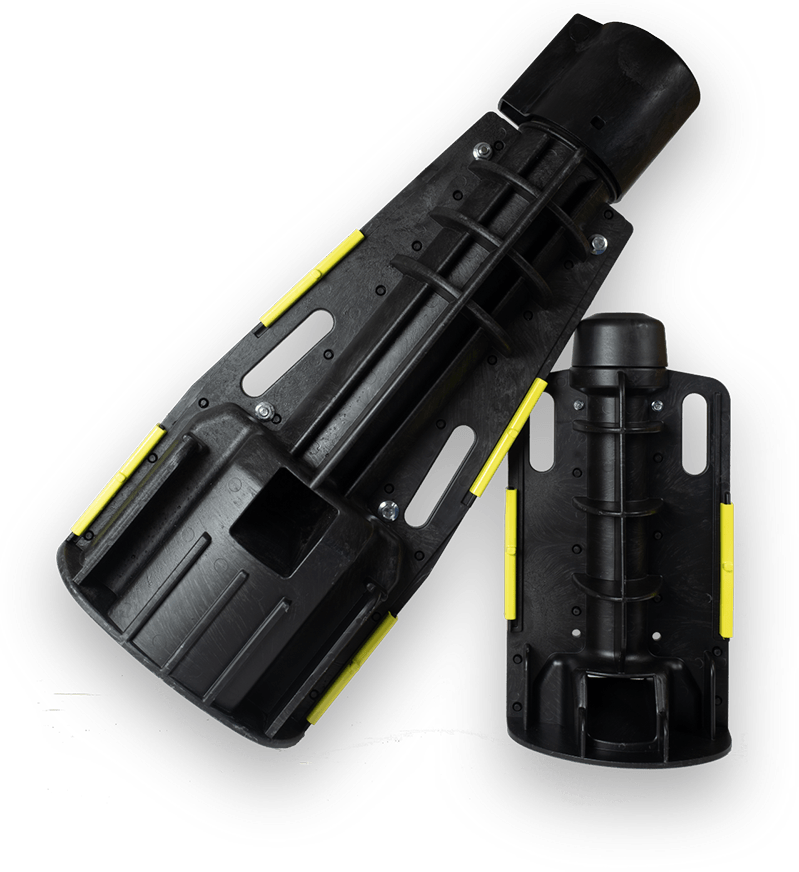 Lightweight bases and foundations
Our bases and foundations produced out of recycled plastic promotes an environmentally friendly and working environment friendly construction. They are suitable for street lights, E/V chargers, signs, park furnishings and bollards. Designed to prolong the lifespan and simplify installation. The plastic provides an excellent resistance against harsh weather conditions, UV-light, salts, chemicals and dog urine.
Snap Base™ 108 mm
This base for street light posts is developed to increase the quality and lifespan when installing street lights. The expense for an installation will in the long run decrease for the purchaser thanks to much less excavator time and more efficient shipping of the products.
This solution, made out of recycled plastic, is the most environmental friendly on the market. With an innovated and robust design it is a favorite among installers.
Innovative and robust design
The base is designed to withstand the forces of the nature, both above and under ground. To prevent the base and pole from tilting or turning the integrated wings and framework ensures that the base is standing securely. Thanks to the masses packed tight against the wings it withstands great forces.
Manufactured out of 100% recycled plastic – sustainable product.
Gentle installation, both for the installers and for the cables.
| Pole diameter (mm) | 108 |
| --- | --- |
| Base height (mm) | 900 |
| Insert depth (mm) | 600 |
| Weight (kg) | 12 |
| Pieces/EU-pallet | 8/16 |
| Savings in oil & Co2-eq | 19,55l/24,44 kg |
Snap Base™ 60 mm
Designed for standard 60 mm diameter poles. Suitable for E/V chargers, park furnishings and signs of various kinds. It was developed to simplify and promote an environmentally friendly installation.
With an innovative design and light weight it has what it takes to increase quality of the installation but also enhance the working environment for the installers and lower the overall project budget. The solution is the most environmental friendly there is, produced out of recycled plastic.
As its bigger brother, Snap Base™ 108, the 60 mm version is as robust and resistance to outside influences such as UV-light, salts and chemicals.
| Pole diameter (mm) | 60 |
| --- | --- |
| Height (mm) | 520 |
| Insert depth | 350 |
| Weight (kg) | 3,5 |
| Pieces/EU-pallet | 36/72 |
| Savings in oil & Co2-eq | 5,95l/8,96kg |
Low weight and gentle installation, both for cable and installer
Secure and sustainable installation
Order free samples
Interested in a few free samples for your own evaluation? Great!
Please provide your contact information below and we'll get in touch to learn more about your needs to be able to provide accurate samples.